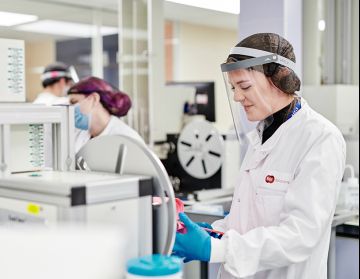 Our Mission Statement:
Serving the science of diagnostics. We do this by delivering exceptional products and technologies that people rely on to enjoy a better quality of life. Through innovation, partnership, effective delivery and the collaboration of our people, we constantly strive to help set industry standards, engender trust and build our reputation for excellence
BBI Solutions in numbers
We have served the global diagnostics industry for over 50 years, so you know you're in safe hands.
60 Years
working with customers and partners to develop and manufacture enzymes
400m
lateral flow tests every year use our gold nanoparticles
5bn
test strips contain our Glucose Oxidase for Blood Glucose Monitoring
15m
assay capacity annually with batch sizes from 5k to 100k
Our Values
These are the practical things BBI believes in. They directly inform the decisions we make and the actions we take as a business.
Precision
The way we do things is accurate, careful and efficient. From the way we develop our products, to the way we interact with clients, customers and partners – we work to get it right first time.
Partnership
We work as a closely-knit team and value our relationships with other experts and organisations. This gives us the knowledge and resource to get the right results.
Empowerment
Our work results in powerful, advanced technologies. We develop these into practical effective commercial products and applications – empowering people to live a better life.
Potential
We believe in the potential of innovation and our people. Our business is built on bringing out the best in people – nurturing talent and fulfilling all our ambitions.
The acquisition of DIARECT in June 2020 and their world leading recombinant autoimmune antigen capability immediately enhances BBI's portfolio and position as a 'complete' immunoassay reagent supplier. This further enhances BBI's position as the world's largest diagnostics components company with a market leading antigen portfolio.
Maine Biotechnology Services brings 27 years of knowledge, experience, process development, and project management to our customers to ensure the best possible antibodies for any application. As antibody development goals in the biotechnology and pharmaceutical industry have evolved the acquisition of MBS will help BBI further meet and exceed our customers needs.